About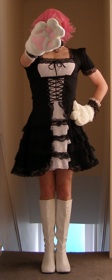 This is my personal journal, reserved to write about anything that takes my fancy or catches my whim. I am focussed on gaming, and although most posts concern EVE Online I am currently addicted to Splatoon on my Wii U.
If anything is spelt or typed badly, or is grammatically dubious, it's likely that my cat wrote the post. Like most cats, he's notoriously bad at spelling.
Every post is scheduled. If a comment goes unanswered or unmoderated it may be because I am unavailable, even if a new post is displayed in the meantime.
Access to tigerears is blocked from where I work. As such, a comment may be held in the moderation queue for up to eighteen hours without my being able to approve it.
Gushing fan mail can be sent to wpb<at>tigerears.org.