21st June 2008 – 9.15 am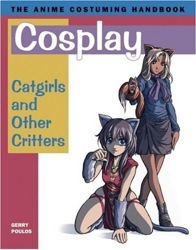 It's a clue that someone knows you a little too well when you get given the perfect gift. This is just what Melmoth managed to do when he got me a book about creating Cosplay catgirl costumes for my birthday.
It's full of advice on how to make cat ears, paws, tails, and how to combine them in to a coherent costume. There are also plenty of ideas for costume designs, all detailed in cute sketches, as well as what is involved in showing off the finished costume at Cosplay events, if one feels so bold.
I have a rudimentary tiger outfit, which I created myself, and it's pretty good for a first attempt, if a bit basic. I'm really happy with the tail! I could use a better method of securing it, and the book has advice for that. I'm looking forward to having a go at making some ears and paws, and dabbling with making a better overall costume.
Thanks, Melmoth!