16th March 2009 – 10.42 am
When I joined up with some friends to see Watchmen at the IMAX last week we spent a little time wandering around comic shops. In Forbidden Planet I saw a superb statue of a character from the Oh! My Goddess! manga and although I generally don't buy statues or figurines this one of Belldandy had me enchanted. I have to admit that the comic the character comes from is perhaps my favourite, even if I don't read many titles overall, and the statue helps as a reminder of all the wonderful stories I've read over the years. I didn't buy the statue that day, partly because I didn't want to carry a bulky box to the cinema and partly because there was no price tag on the item and wasn't sure I could afford it, but I went home with the promise to look up the price on the internet.
I found the statue of Belldandy being sold on several internet sites and decided that I had saved enough money in my kitty to treat myself. I end up placing an order through Tokyo Toys. I was happy to find a shop in London that stocked the statue—the Forbidden Planet website didn't have it listed—as it would hopefully make shipping easier. I go back to the Tokyo Toys website at the end of the week to have another browse around their stock and it is only then that I notice the sidebar announcing a manga portrait day in the shop. It sounds quite interesting and clicking through I see that there are going to be three artists in the shop drawing portraits of customers for a reasonable fee, and that it is happening the next day.
Despite staying out late to see Emiliana Torrini at the ULU the night before I manage to drag myself out of bed in good enough time to decide to head in to London to get my portrait drawn in a manga style. On the tube ride in to the centre of London I am thinking about the options available. I don't really want just a pencil sketch, as it would perhaps be too vulnerable to erasure, and the black and white ink option costs almost nothing more. I am not too bothered about getting the portrait coloured, thinking that an inked sketch would look cool enough.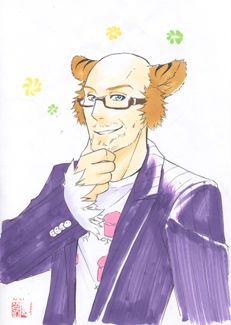 Getting to the shop almost at midday I add myself to the end of the already-forming queue. The owner asks me which artist I would like to sketch me and taking a look at the works-in-progress Nana Li's artistic style connects with me immediately. Not only that, but I catch a glimpse of a coloured sketch she is completing and I am blown away, instantly changing my mind about the style I want.
After killing an hour in the middle of London, which is quite easy, I return to Tokyo Toys and wait a short while longer as Li completes her current portrait. I sit down, we are introduced and Li gets to work. I ask for some tiger ears to be added, which creates a little discussion about how to resolve the problem of having two sets of ears. Furry ears tend to sit higher on the head than normal ears and if the normal ears are left out the head can look peculiar, but you also don't want two pairs of ears. We resolved this by adding some fuzzy sideburns, which works really well.
It is wonderful to see Li craft her skill as the portrait is created before my eyes. The initial pencil sketch takes a blank sheet of paper to which is added rough lines and ovals, resolved with deft strokes in to an outline that is inked in to permanence. Then a keen choice of colours adds life and some subtle highlights lend remarkable depth. I am tremendously happy with the result, it is absolutely brilliant! The portrait has a definite manga look to it and it captures me perfectly, with the tiger ears looking surprisingly natural. It was a fabulous experience and I even get to keep the result.
The portrait events don't happen often, maybe every few months or so, but I highly recommend taking the opportunity to go to one if possible.