11th July 2010 – 3.51 pm
My kitchen cupboard doesn't smell right. It smells of rodents. A bit of a tidy up finds evidence1 of a mouse having been in the cupboard. My Sherlockian mind then realises that the holes in the bag of kitty food were probably not there when I bought it but gnaw marks made later. It seems that one of Panda cat's catches got away from her and has made itself home in my kitchen. It even found a food source, ironically enough in the cat food.
I clean the cupboard and move the cat food to the breakfast bar, where I note I've never eaten breakfast and am using it as a general storage area. I doubt a mouse could get up there, though. Without a food supply the little fellow will be forced to come out of the cupboard to forage, where surely one of my cats' instincts will kick-in and catch the bugger properly this time. Not wanting to go to the hassle of dismantling my kitchen to flush out the rodent, I consider my job done for now.
One weekend morning, I am putting groceries away when I hear a rustle. I turn and see the bag of cat food move a little, still perched on the breakfast bar. I've been serving cat food to cats for a good number of years, I am fairly certain it doesn't move. I'm not entirely sure what I expect to find2 and tentatively go to look at what is now apparently inside the bag of cat food. My loyal Kenickie is standing nearby so I am confident that if I am attacked I will be defended. I cautiously open the cat food, noting the presence of a new hole gnawed in to it, and find cat biscuits. But I know I saw the bag move.
I start clearing a few items from the breakfast bar, but there is no obvious sign of rodents. I then notice that the cover of my sewing machine is lifted slightly at one corner, so I lift if off completely. I turn the machine a little and there's a sudden dash of scratching claws as something big, brown and furry leaps from the surface on to the kitchen floor! I have to admit to being somewhat startled, partly by its size and partly by brave Kenickie fleeing from the kitchen at full pelt. I nearly did too, but it's not my job to catch mice. Or a rat.
There's a rat in mi kitchen, what am I gonna do? I'm gonna fix that rat, that's what I'm gonna do. Kenickie doesn't have the killer instinct and won't hunt it actively, unless I manage to stuff the rat full of catnip, and Panda apparently prefers more of a safari than a cage-fight. I have little option but to borrow a couple of mousetraps. I am shown how to set them and how sensitive they are and I bring them home to try to catch the rat. It means killing the rodent but it seems the most convenient way.
I cautiously arm both traps, one with a chocolate button as bait and the other with a peanut, and place them in the cupboard where the rat's presence was first noticed. I place the bag of kitty food back in the cupboard, hoping to tempt the rat to forage for snacks again. Now I wait. It doesn't take more than a couple of hours before a harsh snap is heard from the cupboard. I tentatively open the door, hoping the sight beyond isn't too gruesome, to see the more sensitive trap decided the cholocate button was its target. A false alarm. I'm not risking putting my fingers near that bone-breaker again and leave just the single trap in the cupboard.
More hours pass, then days. The other trap isn't triggered and there are few signs of the rat in the cupboard. In fact, it looks like he is coming out to feed directly from the cats' food bowl, but I can't put a trap in the open where the cats could get to it. I may have a new accidental pet.
The weekend comes again and Panda is helping me feed her by meowing, but moving out of the kitchen gets her interested in something else. I know that look, she senses prey. Panda sniffs and prowls around my little practice amplifier, once used for awkward attempts at playing the guitar and now hooked up to my electronic drum kit. 'Have you found it?' I ask her, cautiously tilting the amp so that I can see inside the back. Yikes! Yes, you have.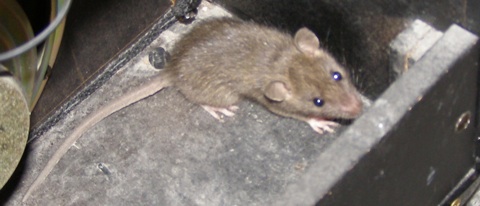 Naturally, my first instinct is to take photos of the rat for evidence, because I know the rules of the internet. Luckily, it is gracious enough to stay in the amp until I have a couple of shots, although I suppose the threat of Panda cat helps keep it there. The amp also acts as a carrier for me to take it outside to release it back in to its natural habitat of not-my-home. But the rat quite likes being indoors and having access to all the cat food it can eat, and makes a break from the amp as I carry it out. It scutters out of the amp and on to my hand before thankfully jumping back in to the amp. I am able to carry the amp outside and dump the rat on the pavement, where it scurries off at an impressive speed.
That was a big fellow. I'm not entirely convinced that Panda brought it in, the rat may have just decided to come through the cat flap. But hopefully now it will be happy to be outside again. And, perhaps upset that Panda missed the kill by my interference, I come home later to find a dead bird next to the food bowl, it's head crushed to a bloody pulp. This kill is a little quicker and easier to clean up.
1. Poo.
Return to post.
2. Okay, obviously I am expecting to find a mouse.
Return to post.