6th May 2012 – 3.45 pm
I'm still getting to gigs, still with mixed results. Here are my experiences from the first gigs of the year.
Wild Flag/Peggy Sue at Electric Ballroom
Peggy Sue play first, and though seem pretty good initially they start to wear on me as the set continues. I'm not sure why at first, until I realise that their two lead vocalists share almost all the singing duties. They both have good voices and have enough differences to tell them apart, but nearly all the time they both sing together. On reflection, this could be why I didn't enjoy the album from the Smoke Faeries. I think I would like the band more if they acknowledged their two voices rather than trying to make them one, having different parts for each voice and only occasionally combining them for harmonies.
Interestingly, putting two voices to good use is what Wild Flag manages to do perfectly. Maybe because the lead singers come from different bands and look to be sharing writing duties, they both take turns singing the main line in a song with the other, along with keyboardist and drummer on occasions, as well as helping with harmonies and a chorus here and there. Doing so creates a stronger presence and personality for each voice, and gives individual character to the songs. Of course, it helps that Wild Flag has Mary Timony of Helium and Carrie Brownstein from Sleater-Kinney as lead vocalists, as you can't have a much better indie pedigree than that. And I love seeing Wild Flag perform live, not just because of my Timonycrush, although it would be better if the lighting guy wasn't trying to blind me at every opportunity. Hey, light the band, not the audience, you moron! I see no benefit in pointing the brightest lights right in to the face of an audience in a darkened venue and flashing them to the beat of the songs. But even when I couldn't watch the band because of watering eyes filled with after-images I could still listen to them. Some new songs were played along with most tracks from their debut album, and it was all rather jolly. Highlight for me was, naturally, Something Came Over Me, my favourite track from the album.
Slow Club at Heaven
Seeing Slow Club perform tracks from second album Paradise at the end of last year made me realise how accomplished the album is. It seems brasher and less folky than their debut, but it is a natural progression and evolution of themselves that comes across in the music. Hearing it with the same Charles and Rebecca tomfoolery between songs that there always was makes me jump at the chance of seeing them again, this time at an NME-sponsored event. And I'm not disappointed. Slow Club open the gig with a relaxed cover of Pulp's Disco 2000, as they did at their Christmas gig, which gives those who went to that one another chance of hearing it, and pricks the ears of others in recognition to create an immediate atmosphere. Slow Club are happy to be playing in London too, after having just played what Rebecca claims to be one of their worst gigs in Leeds. 'We had to make our own crowd noises', she says, showing how she faked audience appreciation when announcing a song. 'Did Bono have to make his own?', Rebecca wonders, before announcing the next song and getting a huge cheer of appreciation, almost startling her in to fluffing the intro.
We get mostly new songs from the current album, including the first encore being a beautiful acoustic version of Gold Mountain, where Charles and Rebecca stand at the front of the stage, in front of their monitors, and sing and play with no amplification. There are also favourites from Yeah, So scattered around, including Giving up on Love, which gets the audience clapping along and Rebecca very excited. 'We're Kasabian!', she says excitedly, seeing audience hands in the air. 'Charles, we're Kasabian!' Maybe not yet, but Slow Club deserve all the attention they can get.
Little Dragon at the Forum
Both support acts tonight are not really my scene. The first is one man behind some turntables, or samplers, or whatever the kids are using today, and although the music is okay I still don't see the attraction of having one man hidden behind a hood on stage twiddling knobs. At least SBTRKT had a colourful Aztec mask. Second act THEESatisfaction are a couple of rappers from Washington state who are again ok, and are great movers, but are using backing tapes for the whole performance. The sound levels are also rather imbalanced, so that I can barely make out the vocals most of the time. But maybe the support acts are tailored for the main act, as Little Dragon are perhaps more of a dance band than I first thought.
At least Little Dragon have a full band, including a drummer, which makes for more of a performance. But all I can see is some annoying git in front of me waving his arm high above his head, not caring about who this inconveniences behind him. I'm not having a good time, despite liking Little Dragon and the music they're playing tonight. Maybe I'm disappointed with the venue for having such poor sight lines, even in a tiered structure. Maybe I'm disappointed with the morons in front of me who would rather dance and sing along to each other than watch the band, who are there to perform the songs for them, right on the stage, right over there! Look, look! But maybe I'm disappointed with myself, for not having the confidence to dance like those in front of me, for not being able to have a good night out with friends. I think I'm just getting old. Hopefully I just need to pick artists and venues more carefully. The Forum is a bit big for my tastes and Little Dragon too dancey for me to feel like I belong. Back to grimey little venues and indie guitar nonsense!
Disappointments aside, I get an interesting insight in to song selection. I normally see bands that I've followed from early in their careers, and so like to hear a range of songs that doesn't only focus on the current album—or are early in their careers and don't have many songs to play I won't have heard before. In fact, I generally would prefer to hear songs I'm more familiar with and leave the current album until I know it better, particularly as bands can tour within a week of its release. Yet this time, I only know Little Dragon from their current album, which I think is their third. So now I am hoping to hear mostly recent music, as I won't recognise anything else. And I realise that my expectations are reversed to what they normally are. Of course, the band is touring to promote the current album, which I must have known already, but only now do I see the full benefit of playing most of the album's songs. New fans, like myself here tonight, are more likely to remain fans if given a memorable performance, which means playing songs from the album we've bought, whereas older fans will pretty much like everything you throw at them.
The Duke Spirit at Koko
This is a first. My sister has managed to blag some access all areas passes to a gig, thanks to knowing the support band, and is kind enough to throw one my way.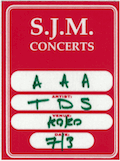 I am obliged to turn up early to listen to the support act, Sissy and the Blisters, who are pretty good and have a decent frontman, but I am mostly keen to see The Duke Spirit, who I've followed since early release Roll, Spirit, Roll. I have to admit that despite enjoying their recordings, the Spirit have not always captured my attention live. Vocalist Liela is fabulous on stage, having amazing energy and a lot of presence, but the rest of the drably attired band blend in to the background too much. Tonight's no exception, really, but maybe it's less that the band are lacking and more that Liela is just so impressive. The music's good, with a decent mix of old and new, and the smaller venue lets me enjoy the band and the music in equal measure. And after the gig I get to go backstage, which is cool enough in having to walk on the stage itself, and then I get to meet the band and fawn over them for a short while. It's not for long, although I get my photo taken with Liela before I have to leave to catch a late train. What a very cool evening.
Bo Ningen/Pelican at the Garage
Favourites of mine Bo Ningen are back from Japan and gigging again. Power Armoured Beard tells me that they are supporting Pelican at the Garage and asks if I'm going. That sounds like a plan! But rock venues are getting distinctly unrocky these days. I aim to turn up expecting to see Bo Ningen get on stage at 8.30 pm as the second support act, and it is only coincidental timing of tube connections that gets me to the venue at 8 pm on the dot, just in time to hear Bo Ningen start. What follows is the usual noisy, vibrant, manic psychedelic rock that thrills and entertains, which along with an ever-changing set-list is what I have come to enjoy about every Bo Ningen gig. We get recent single Henkan, the always amazing Koroshitai Kimochi, and simply breathtaking closing song from the debut album all crammed in to a half-hour set, and the band blows me away again. It's just a shame that PAB walks in to the venue a few seconds after 8.30 pm, just as Bo Ningen are leaving the stage. I don't think my enthusiastic replay of the set, complete with vigorous arm-waving, eases his frustration with missing it.
There is still Pelican to see. And, judging by the merchandise table, there will be plenty to see. The band must have twenty albums available! I am out of my depth here. Even so, I think I saw Pelican quite a few years back at the Scala, where I went to see Part Chimp support them, so I have an idea of what to expect. But first, there is no cheering for the drummer. He wanders across the stage and sits down at this kit to little impression from the audience, who then go wild when the guitarists come out. I would be offended, but seeing him play makes me realise he isn't the backbone to the band, as drummers can be in many heavy rock bands. The guitars pretty much drive the music on by themselves, and I suppose they have to when there are no vocals. It's good music too, even if the lack of vocals makes the focus on the music a little unrelenting by the end of the set. But by the end of the evening I've had a good time and enjoyed both sets. And, thanks to the venue putting the acts on relatively early, I can get home and have a cup of hot chocolate before bed. Rock and roll!
The Dø at the Garage
I only have myself to blame for feeling a bit queasy at tonight's gig at the Garage, a second glass of wine giving me enough of a headache to harsh my mellow and make it awkward to stand uncomfortably in the middle of a crowded venue. Thankfully, I think, the venue itself helps out, having one of the toilets flooding and causing an inch-deep puddle of water to cover the centre of the floor, so I end up standing uncomfortably at the side of the venue, where instead people keep pushing past me to go out for a smoke. But the band, right. Support band We Were Evergreen are amazingly perky and jolly, but there is only so much you can do with a ukelele and glockenspiel, and I tire of the samey-sounding music by the end of the set. Actually, by the penultimate song, because the final song is a fabulous thumping mix that defies most of what went before. If more of We Were Evergreen's music was like that I'd be really interested, but not if I have to dig through so much twee to get to it.
I only know The Dø from album Both Ways Open Jaws, which I like more than I remember each time I listen to it, and the tracks that I recognise today, albeit not by name, are all excellent. Those that I don't recognise, coming from the first album, sound good enough but don't have that flicker of recognition that helps my ailing brain along tonight. I was considering buying the first album here at the gig, but the merchandise stand doesn't open until after the show, which seems a curious decision to make. But it's tough to review a band when I'm not feeling well, have to move out of a puddle, and can hardly see anything between a sea of heads. I'm pretty sure I still like The Dø, but I'm just not feeling the love tonight.